Just over a year ago one of my close friends, Matt, packed up and moved 1,500 km away from Vancouver to Prince Rupert. Prince Rupert is a small coastal city in Northern British Columbia. The only ways to access it aside from flying is to take a ferry up the coast from the north end of Vancouver Island or to drive halfway up BC to Prince George and straight out to the coast, which takes about 18 hours. It is home to about 12,000 residents but has regular ferry traffic from the northern BC Ferries routes and cruise ship traffic from cruises bound for Alaska. As a result it's an interesting mix of small fishing/cannery town and the usual higher-end touristy things such as cafés, boat tours, gifts shops, etc.
The move didn't surprise me as I always figured Matt would do well in a small town like Prince Rupert. I just didn't think he would choose one so far away as he had been toying with locations much closer along the southern coast.
Ever since my husband and I bought our camper van, we had said one of our first trips was going to be up to Prince Rupert to visit and explore for a bit. So, last month, the day after Father's Day, we packed up our house, the two cats, and the dog, and started our journey north. It took us about a week to get there, but it could've taken two to three days. We camped in Quesnel, BC for a couple of days in the sweltering heat with tons of bugs. There were a couple of nights at rest areas. And we finally met up with Matt in Smithers, BC, about four hours before Prince Rupert, where we attended a soft opening of the local craft brewery there.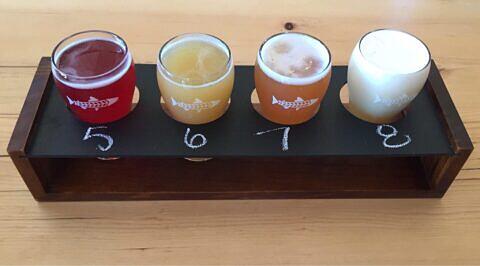 Me and my husband (particularly me) really enjoy craft beer and on our travels we make a point of visiting the local craft brewery in every town we pass through. And Smithers Brewing Co. did not disa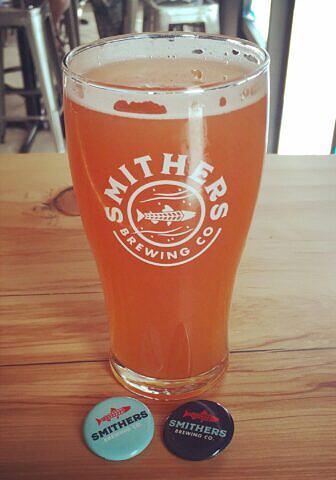 ppoint. It was a fun night, and all I can say is that if you know people, they'll give you beer! That being said, I cannot recommend Smithers Brewing Co. enough. Coming from Vancouver where there is a craft brewery on pretty much every block, we can be hard critics of craft beer. Smithers Brewing Co. hit the nail on the head in terms of interesting, well-brewed beer. They had the basics for the more traditional beer drinker, and then they had the experimental, more out there brews for the adventurous beer drinker. Enter me and my husband! My husband's favourite brew was  the Flower Power Kettle Sour, and I loved the Strawberry Rhubarb Blonde. They also did a Nitro Coffee Lager that they layered with their cider and as strange as it sounds, everyone proclaimed it delicious.
But enough about beer.
The next day we drove our hungover selves the rest of the way to Prince Rupert. We spent the most time exploring this abandoned industry site. Just off the highway past Hazelton is a random collection of old concrete walls that are all that remain of what I'm guessing was some kind of logging industry facility. Graffiti and nature have taken over most of what's left.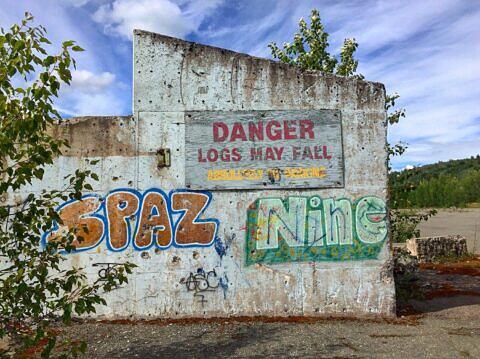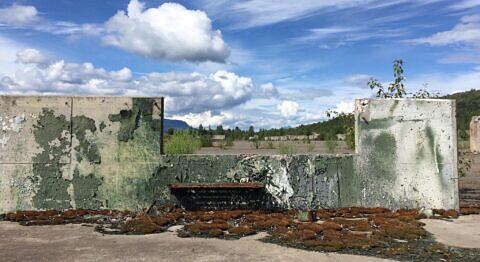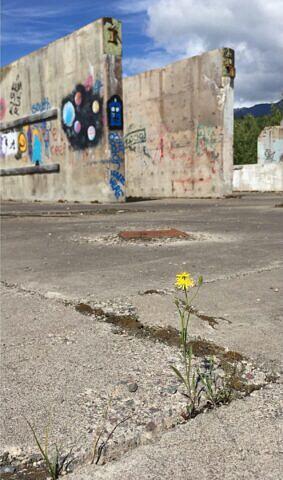 We arrived in Prince Rupert around 9:00pm after a day of lazily sightseeing our way along the highway. Our friend Matt suggested that we drive up the local mountain, Mount Hays to watch the sunset. We hopped in his 4×4 as our van would end up coming back with a ruined undercarriage, no water or propane tanks, and probably much more wreckage, and drove up the mountain.
In Northern BC the sun sets much later in the summer than it does near the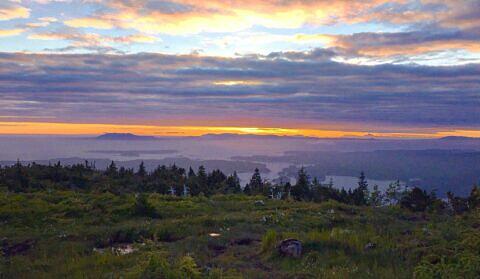 equator. It finally disappeared under the horizon just before 10:30pm and the colours lasted for at least another hour after that. And those colours! The reds and oranges reflecting through the sky were deeper and unlike anything I'd ever seen before. We went up the mountain another time during our two week stay,  lit a bonfire and stayed up there for a long time having beer and just enjoying the view.
For the rest of our stay in Prince Rupert we explored the town, ate some amazing sushi, went boating, ate fresh crab caught that day, celebrated Canada Day, and spent many evenings at the Wheelhouse Brewing Company, the local craft brewery where my friend Matt also happens to work. It was a full two weeks and it was hard to leave, but there were more adventures to be had! We do plan to return before the summer is up though.
One of the first things Matt told me about his new house that he bought in Prince Rupert was that it was a major fixer-upper project. The second thing he told me was that he had become a crazy cat-lady. Apparently Prince Rupert has a large feral cat community. There are cats roaming the streets, relaxing underneath the boat trailers parked at the marina, literally cats in every direction you turn. Most of the residents just ignore the cats, but Matt took it upon himself to try to catch the ones that were living around his house so that he could take them to be fixed. When we arrived at his house I could see the bowls of cat food that he puts out on a daily basis along with many really cute cats that you could almost take home or pet, aside from the fact that they are pretty much terrified of people.
So I got to thinking. A new home calls for a housewarming gift. And then I remembered something I'd seen on the Internet about words that contain "meow": meow, meows, meowed, meowing, homeowner. So I designed this pattern. I haven't actually given it to Matt yet as I haven't found an appropriate frame. But I think it will look awesome hanging on the walls of his unfinished house with all the cats outside waiting to be fed. I'm pretty sure he'll find it quite amusing also!
The pattern is available in my shop.